Berlin Symposium on Structured Lipid Phases
26 – 28 September 2022, Berlin, Germany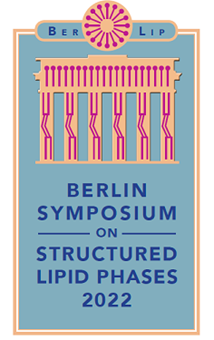 Call for Papers: Submit your Abstract now
Deadline: Oral Presentations: 01 August 2022
Poster Presentations: 30 August 2022
Dear Colleagues,
We have long been waiting to put our idea of a Berlin Symposium on Structured Lipid Phases into reality.
Dealing with the different aspects of structured lipid phases the symposium tries to address the need for more room for discussions often missed at the larger congresses with parallel sessions and tight scheduling. It is thus an attempt to have a dialogue involving academia and industry to relate global challenges and future ambitions to goals that are relevant to the community present. This could imply sharing long-term ambitions and nagging questions as much as imperfect but inspiring work. The symposium should be a stage for exchange, challenges and stimulus for cooperation while being an inspiration to the junior researchers.
To submit your abstract for Berlin Symposium on Structured Lipid Phases, please follow this link: Berlin 2022

Fat Crystallization
Structure Analysis
Modelling
Oleogelation
Confectionary
We are looking forward to welcome you in Berlin for an exciting Symposium on Structured Lipid Phases from September 26th to 28th, 2022.
Visit the Euro Fed Lipid website for more information.
Registrations for the Berlin Symposium on Structured Lipid Phases will open end of July 2022.
With best regards
Eckhard Flöter Sevim Saritas