VENUE
The 15th GERLI Lipidomics Meeting will take place at Centre de Transfert of University of Technology of Compiègne (Address – 66, avenue de Landshut, 60200 Compiègne).
Compiègne is a city located at 80 km in the north of Paris and easily accessible by cars (A1 highway), trains (from Paris-Gare du Nord) and planes (airports Roissy-Charles de Gaulle or Paris-Orly).
TRANSPORTS – HOW TO JOIN COMPIEGNE?
AIRPORTS : Roissy-Charles De Gaulle (CDG), Paris-Orly.
The closest Airport is Roissy-Charles De Gaulle (CDG) at 60 km of Compiègne. The RER B joins Roissy-Charles De Gaulle to Paris-"Gare du Nord" (https://cdgfacile.com/rer-b-aeroport-paris-roissy-charles-de-gaulle-cdg/; 45 min).
To facilitate your transportation to Compiègne on Sunday, we rented an additional bus (GERLI BUS) that will leave from Roissy-Charles De Gaulle Airport at TERMINAL 2 F "ARRIVEES" (See map:ckeckpoint) at 17:00 on sunday september 29.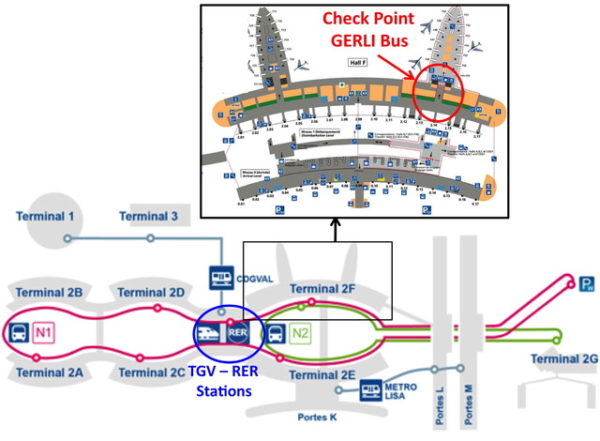 For return on wednesday october 2, the GERLI BUS to Roissy-Charles De Gaulle Airport and/or TGV station will leave at 17:30 from Compiegne Centre de Transfert.
Orly Airport is at 95 km of Compiegne. An automatic metro connects Orly terminals to Antony RER station (Orlyval : 6-8 min). Then, The RER B connects Paris-Gare du Nord (30 min) or directly Roissy-Charles de Gaulle (1h10).
TRAINS: The closest TGV train stations are those of Marne La Vallée, Charles De Gaulle or the different stations at Paris.
Many trains join Compiègne in 40 minutes (direct lines) or 1h15 depending on the number of stops (https://www.thetrainline.com/fr/horaires-train/paris-gare-du-nord-a-compiegne).
ATTENTION : On Sunday Septembre 29th, no direct connection will be available from Paris-Gare du Nord station to Compiègne station. A correspondence will be assured between the station of Creil and that of Compiègne (transfert by bus). The ticket should be directly buy at Paris-Gare du Nord station for Compiègne. The schedule are indicated in the table below « TER Paris-Compiègne, September 29th.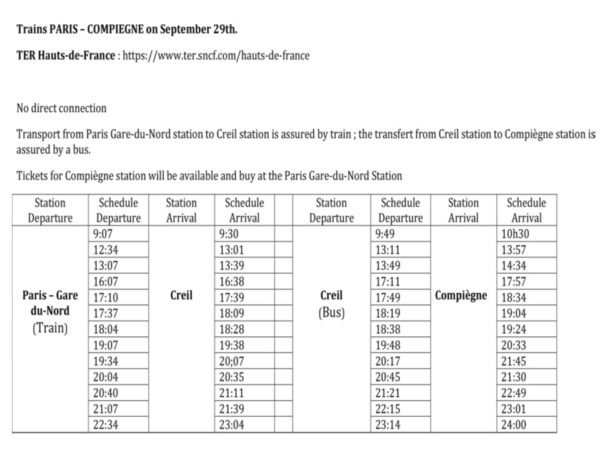 BY CARS : A1 HIGHWAY IN DIRECTION OF LILLE AND EXIT N°9 (COMPIÈGNE SUD)
HOW TO JOIN MEETING IN COMPIÈGNE?
Buses are free of charge in Compiègne (see map and schedule: Bus lines).
ACCOMMODATION
This section lists a short selection of hotel recommendations. All these hotels are located close to centrum, station, congress meeting and have been chosen to allow you to easily reach the conference venue by foot or by free buses.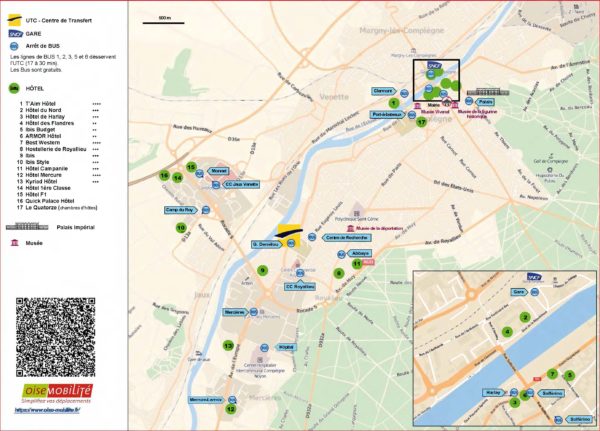 For booking inquiries please contact the hotels directly using the booking link. Please note that the cost of accommodation is not included in the congress fee and will not be covered by the organizer.
Hotel
Location
Booking
Class
Room
T'AIM Hotel

10 min to Compiègne station – between Centrum and congress place

70 A Pont Neuf, 60280 Margny-lès-Compiègne

Tel : +33 364718042; +33 618 534 755

Contact:Marie Alaimo; commercial@taimhotel.com

https://www.bestwestern.fr/fr/hotel-Margny-Les-Compiegne-Aiden-by-Best-Western-a-T-aim

4 stars
75-200€

HOTEL DU NORD

Centrum

1 Place de la Gare, 60200 Compiègne

Tel :

https://www.booking.com/hotel/fr/ha-tel-restaurant-du-nord.fr.

3 stars
80-120€

HOTEL DE HARLAY

Centrum

3 Rue de Harlay, 60200 Compiègne

Tel : +33 344230150

https://www.booking.com/hotel/fr/de-harlay.fr.

3 stars
80-120€

HOTEL DE FLANDRES

Centrum

16 Quai de la République, 60200 Compiègne

Tel : +33 344832440

https://www.booking.com/hotel/fr/ha-tel-de-flandres.fr

2 stars
60-100€

BEST WESTERN

Les Beaux Arts

Centrum

33 Cours Guynemer, 60200 Compiègne

Tel : +33 344922626

https://www.bestwestern.fr/fr/hotel-Compiegne-Best-Western-Hotel-Les-Beaux-Arts-

4 stars
115-180€

ARMOR HOTEL

Centrum

4 rue Solférino, 60200 Compiègne

Tel : +33 344360655

https://www.armorhotel.fr/fr

2 stars
80-110€

IBIS BUDGET

Centrum

1 Rue Pierre Sauvage, 60200 Compiègne

Tel : +33 892683104

https://www.accorhotels.com/fr/hotel-2571-ibis-budget-compiegne-centre-ville

2 stars
55-75€

HOSTELLERIE DU ROYAL-LIEU

Near Congress site

9 Rue de Senlis, 60200 Compiègne

Tel : +33 344201024

https://www.booking.com/hotel/fr/hostellerie-du-royal-lieu.fr.

3 stars
110-150€

IBIS

Near Congress place

ZAC de Mercière, 18 rue Edouard Branly, 60200 Compiègne

Tel : +33 344231627
3 stars
75-140€
CAMPANILE

Near Congress place

70 Avenue De Huy, 60200 Compiegne

Tel /+33 344204235

http://www.campanile-compiegne.fr/

3 stars
90-140€

LE MERCURE

2 km Congress place

126 Rue Robert Schuman, 60610 La Croix-Saint-Ouen

Tel : +33 344303030

www.accorhotels.com/fr/hotel-1623-hotel-mercure-compiegne-sud

4 stars
85-150€

KYRIAD HOTEL

3,6 km Congress place

ZAC de Mercière, 10 Avenue Marcellin Berthelot, 60200 Compiègne

Tel : +33 344201111
3 stars
70-150€

1 ERE CLASSE HOTEL

2,5 km Congress place

726 Avenue Jean Moulin, 60880 Jaux

Tel : 0 892234814
1 star
30-50€

F1 HOTEL

2,5 km Congress place

ZAC de Venette, 61 Avenue de l'Europe, 60200 Venette

Tel : 0 891705227

https://www.accorhotels.com/fr/hotel-2423-formule-1-hotelf1-compiegne

1 star
30-50€