8 juin 2021
Post-doctoral position (24 months) in malaria lipid metabolism
Regulation of the phospholipid metabolism of the malaria parasite
The malaria parasite relies on phospholipid (PL) metabolism to meet the massive need for membrane biogenesis during its development. The three main PLs of the parasite are essential for parasite survival and synthesized through several connected pathways. Recent analyses of the Plasmodium falciparum PL metabolism have raised new fundamental questions about the sources of PLs, the links between the multiple pathways and the existence of some specific enzymatic steps. This ARN-funded project aims at providing better understanding of the interplay between the multiple and interconnected PL pathways leading to the identification of future putative therapeutic targets. We will analyse the metabolic adaptations of the parasite in response to controlled disturbances such as genetic modifications or inhibitor effects. Our approaches combine molecular biology, Plasmodium genetics, lipidomics and structural biology.
2 juin 2021
Ingénieur d'Etudes CDD 12 mois
AlzTau - Design of non-peptidic Tau disruptors of Alzheimer's disease early stages
Structure d'accueil : Le CERMN est une équipe d'accueil de l'Université de Caen Normandie dont les activités de recherche sont centrées sur la découverte de nouveaux agents d'intérêt thérapeutique ou diagnostique, par la mise en œuvre de méthodes de drug design soit de novo, soit par la fouille de chimiothèque, ou encore en proposant le repositionnement de substances actives. Pour cela, l'unité s'appuie sur les outils chimiques, chemoinformatiques, biologiques et galéniques dont disposent ses quatre plateformes. C'est au niveau de la plateforme Screening et Drugabilité du CERMN que l'Ingénieur d'études recruté sera intégré. Outre le développement de formulations galéniques innovantes basées sur des nanovecteurs, les activités de cette plateforme visent à développer des tests in vitro permettant d'évaluer de façon précoce l'activité de nouveaux composés par rapport à des cibles biologiques d'intérêt, et aussi d'évaluer les caractéristiques physicochimiques prédictifs de leur pharmacopotentialité.
Description du poste : Le poste à pourvoir correspond à un poste d'ingénieur d'étude d'un an à compter du 01/09/2021 (financement Région Normandie et fonds FEDER – Programme RIN Emergent AlzTAU).
Deux signes distinctifs de la maladie d'Alzheimer (plaques amyloïdes extracellulaires et enchevêtrements neurofibrillaires intracellulaires) sont connus depuis longtemps. Aujourd'hui, les oligomères protéiques intracellulaires sont considérés comme des entités toxiques dans la maladie. En particulier, les protéines clés, telles que la protéine Tau associée aux microtubules, ont la propension à former des oligomères qui agissent comme une matrice ou un noyau pour la conversion et la co-agrégation de protéines endogènes, qui forment finalement des fibrilles. Des travaux antérieurs ont montré que deux hexapeptides de la protéine Tau sont nécessaires à la formation des filaments.
Récemment, le CERMN a construit des modèles 3D d'agrégats de peptides Tau pour aider à concevoir des molécules non peptidiques capables de perturber l'oligomérisation et la fibrillation de Tau. En parallèle, le criblage de la chimiothèque du CERMN (parmi 19000 composés) basé sur la similarité structurale de la palmatine a mis en évidence entre autres les molécules de type pyrrolizinone.
De plus, le CERMN a récemment développé une procédure biophysique multiparamétrique capable de décrire l'interactome impliqué dans l'agrégation des peptides β-amyloïdes. Il est composé d'un modulateur d'agrégation, d'une protéine amyloïde et d'un modèle de membrane biomimétique (Smeralda et al., Int J Biol Macromolecules, 2021, 181(30), 769-777).
Nous souhaitons transposer cette procédure multiparamétrique à la caractérisation de l'interactome protéine Tau-molécule-liposomes et ainsi in fine mettre en évidence l'intérêt de nouveaux composés pour le traitement de la maladie d'Alzheimer.
Profil du candidat : Sont requises une aptitude à manipuler les peptides/protéines, une bonne maîtrise d'outils de caractérisation physico-chimique et analytique (techniques spectrophotométriques / quenching de fluorescence, HPLC, 1H RMN, ATR-FTIR, diffusion quasiélastique de la lumière,…). Des compétences dans la formulation de liposomes selon la méthode de Bangham et leur caractérisation seraient un plus.
12 mai 2021
PhD Ecole Doctorale des Sciences Chimiques ED250 Université Aix Marseille
Véhicules lipidiques pour délivrer des protéines dans la cellule
Contexte de l'étude : L'étude des relations structure-fonction des protéines s'oriente de plus en plus vers des études dans la cellule afin d'observer ces protéines dans leur environnement naturel. Les protéines intracellulaires peuvent en effet se trouver dans des environnements confinés (organites, membranes) et des milieux loin de ressembler aux tampons classiques avec des zones de plus faible hydratation, un encombrement moléculaire et parfois des séparations de phases liquide-liquide. Ces environnements ont un impact sur le repliement des protéines et sur les interactions qu'elles peuvent établir avec d'autres partenaires, et donc sur leur fonction. Dans ce contexte, notre équipe multidisciplinaire a pour objectif d'étudier des réactions enzymatiques se déroulant dans les microalgues et leur chloroplaste, ces réactions intervenant depuis la fixation du CO2 jusqu'à la conversion du carbone en lipides. Nous associons plusieurs expertises dont la formulation lipidique[1], les interactions lipides-protéines, notamment avec des liposomes[2], la production de protéines recombinantes marquées et la spectroscopie RMN pour accéder à la structure et à la dynamique des protéines[3, 4]. Pour étudier les enzymes et de leurs protéines régulatrices dans leur environnement cellulaire, il est nécessaire de pouvoir réaliser un marquage isotopique (15N), soit in situ par une surexpression spécifique, soit avant que la protéine marquée soit introduite dans la cellule. Cette seconde option nécessite des méthodes permettant la pénétration de la protéine marquée dans la cellule, en quantités suffisantes, pour être détectées par RMN. Elle s'inspire en général des méthodes de transfection permettant l'introduction d'acides nucléiques (ADN, ARN) dans les cellules telles que l'électroporation, le « gene gun » ou les liposomes, qui connaissent aujourd'hui un développement spectaculaire avec les vaccins à ARN[5]. L'utilisation de liposomes pour véhiculer des protéines a déjà conduit à des applications concrètes dans le domaine de l'enzymothérapie de substitution pour le traitement de maladies lysosomales[6, 7]. Cependant, ce mode d'adressage peut conduire à la dégradation de la protéine véhiculée et il faut donc pouvoir suivre son devenir dans la cellule cible et le contrôler.
Descriptif du projet
Il consistera à préparer des liposomes de diverses compositions en lipides afin de cibler diverses voies d'internalisation (endocytose versus fusion directe à la membrane plasmique) dans la cellules et le chloroplaste de la microalgue Chlamydomonas reinhardtii en utilisant notamment des galactolipides, monogalactosyldiglycerides et digalactosyldiglycerides qui sont les constituants majeurs des membranes de la machinerie photosynthétique des plantes et des algues[8]. Utiliser des liposomes constitués de galactolipides, associés ou non à des phospholipides est une nouvelle approche de vectorisation. Nous étudierons l'encapsulation dans ces liposomes d'une protéine modèle marquée à l'azote 15, produite par expression hétérologue chez la bactérie E. coli. Grâce à la RMN, nous comparerons sa structure en solution à celle de la protéine associée aux lipides. Nous éliminerons les formulations pouvant conduire à des agrégats lipoprotéiques plutôt qu'à des formes encapsulées. Une fois cette étape réalisée, nous testerons l'incorporation de la protéine marquée chez un mutant de la microalgue Chlamydomonas reinhardtii dépourvu de paroi cellulaire pour faciliter l'accès à la membrane plasmique. La RMN sera utilisée pour vérifier la pénétration de la protéine dans la cellule, étudier ses propriétés (structure et conformations par spectres bidimensionnels 1H-15N, dynamique par études de relaxation de spin, diffusion par DOSY-NMR), ses interactions et éventuellement sa dégradation in situ.
Références Bibliographiques
[1] Carriere, Impact of gastrointestinal lipolysis on oral lipid-based formulations and bioavailability of lipophilic drugs, Biochimie, 125 (2016) 297-305. [2] Mateos-Diaz, Carriere et al., IR spectroscopy analysis of pancreatic lipase-related protein 2 interaction with phospholipids: 1. Discriminative recognition of mixed micelles versus liposomes, Chem Phys Lipids, 211 (2018) 52-65. [3] Launay et al., Cryptic Disorder Out of Disorder: Encounter between Conditionally Disordered CP12 and Glyceraldehyde-3-Phosphate Dehydrogenase, J Mol Biol, 430 (2018) 1218-1234. [4] Launay, et al., Absence of residual structure in the intrinsically disordered regulatory protein CP12 in its reduced state, Biochem Biophys Res Commun, 477 (2016) 20-26. [5] Pardi, et al., mRNA vaccines – a new era in vaccinology, Nat Rev Drug Discov, 17 (2018) 261-279. [6] Muro, New biotechnological and nanomedicine strategies for treatment of lysosomal storage disorders, Wiley Interdiscip Rev Nanomed Nanobiotechnol, 2 (2010) 189-204. [7] Chatin, et al., Liposome-based Formulation for Intracellular Delivery of Functional Proteins, Mol Ther Nucleic Acids, 4 (2015) e244. [8] Sahaka et al., The digestion of galactolipids and its ubiquitous function in Nature for the uptake of the essential alpha-linolenic acid, Food Funct, 11 (2020) 6710-6744.
28 avril 2021
Postdoctoral researcher position: GISMO CRSA Team : Microbiota Intestine & Inflammation
Gut mIcrobiome quorum Sensing MOlecules to target inflammatory bowel diseases CRSA Saint Antoine Hospital, 27 rue de Chaligny, 75012 Paris, France
The position
In the framework of The GISMO project, the Microbiota Intestine & Inflammation (MI2) Team from the Saint-Antoine Research Center (CRSA) in Paris is inviting applications for a 2-year, fully funded postdoctoral position. We are looking for a motivated full-time post doc to work on the impact of bacterial quorum sensing molecules from the intestinal microbiota on the intestinal barrier and its inflammatory pathways.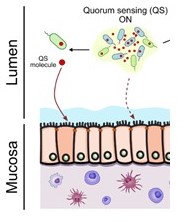 The scientific context is the gut ecosystem and its implication in inflammatory bowel diseases (IBD). Indeed, the host-microbiota interactions play a crucial role in the pathophysiology of these diseases. Our group is a leader in the description of IBD associated dysbiosis and we decided to investigate metabolites from gut microbiota that could interplay with both the gut microbiota and the host physiology in an interkingdom network. While biological components (such as SCFA, Bile acids, tryptophan derivatives) have been repeatedly described, a largely overlooked component is that of Quorum Sensing (QS), a density-dependent system able to coordinate bacterial responses but also able to interact with host cells constantly exposed to bacteria. We published the first detection of AHLs QS molecules from the human gut and profiled AHLs distribution over a cohort of healthy individuals and IBD patients (Landman et al. PloS One 2018). This led to the identification of the most conserved, abundant and never-described AHL associated to the healthy human gut, 3-oxo-C12:2 AHL, which negatively correlates with IBD and its associated dysbiosis. We showed that 3-oxo-C12:2 is able to maintain tight junctions integrity under inflammatory conditions (Aguanno et al. Tissue Barriers 2020). Moreover, 3-oxo-C12:2 exerted an anti-inflammatory effect on epithelial and immune cells, confirming novel, relevant physiological properties (manuscript in prep). From this starting point, our aims are to decipher the mechanisms of the barrier protection and the anti-inflammatory effects of AHLs. Transcriptomic analysis pointed out several pathways (NFkB, JAK-STAT, TNFalpha, IL-17) that need to be better characterized in this setting.
The research Team MI2 is located in a nice and lively area of Paris and is a very dynamic team of the CRSA composed by about 40 individuals including researchers also implicated in health care (gastroenterologists) and teaching (epithelial cell biologists and microbiologists), post-docs, PhD students, master's students, technicians and engineers. Translational research is available from a database of more than 10.000 IBD patients. Lab's facilities include cell culture expertise, cell imaging, microbiology, tandem and high-resolution mass spectrometry and high-quality technical support.
Project aims
Deciphering AHL-related inflammation pathways in epithelial and monocyte-macrophages cells and in organoids.
Puzzle out AHL effect on barrier function by studying regulation of tight/adherens junctions and desmosomes as well as chemical barrier (mucus and antimicrobial peptides secretion) on cell lines and organoids.
Your Profile
The eligible candidate must have obtained his/her Ph. D. degree within 2 years from the starting date of this position (that is, between September 2019 and September 2021). The successful profile will have solid skills in the field of cell biology of epithelial cells, inflammation and innate immunity, and be proficient in oral and written English. We are looking open- minded for candidates interested to work in a multidisciplinary research environment.
Application
We exclusively accept applications via email on the following address:
philippe.seksik@aphp.fr
The applications should be in French or English and include a curriculum vitae with names and contact information of 2 referees, a complete list of publications and a statement of research interest. The applications should be sent as a single PDF file. Applications will be reviewed as they are received until the position is filled.
Employer: Sorbonne-Université
Starting date: ideally 09. 2021
Duration : 24 months
Location: CRSA Saint Antoine Hospital, 27 rue de Chaligny, 75012 Paris, France
31 mars 2021
PhD
microalgae lipid droplet
PhD student opportunity on "microalgae lipid droplet"
Funding: CEA (CEA offers a competitive stipend plus all healthy benefits included)
Laboratory:
The team of "Microalgae and Bioenergies", CEA, CNRS, Aix-Marseille University, France
Director of the PhD thesis: Yonghua Li-Beisson (yonghua.li@cea.fr)
The project summary:
Dissecting the molecular mechanisms of lipid droplet formation and turnover in microalgae
Plants and algae live in a fluctuating and often hostile environment. Lipid droplet (LD) is one of the major strategies photosynthetic eukaryotes have evolved to ensure their optimal growth and survival. LDs are made of a neutral lipid core surrounded by a monolayer of membrane lipids and decorated with proteins. LDs play many functions including energy and carbon storage, as an acyl pool for membrane synthesis and cell-to-cell signaling. LD biogenesis and turnover is therefore tightly coordinated to cells' metabolic needs in a fluctuating environment. Although the major conceptual steps around LD biogenesis and turnover have been outlined, the molecular details remain to be worked out. This PhD project aims to dissect the molecular mechanisms underlying LD turnover in the model microalga Chlamydomonas reinhardtii. We will first provide a dynamic map of LD proteome and lipidome under dynamic environmental conditions, then use protein-protein interaction studies to identify key proteins and their inter-acting partners, and finally we will investigate the function of these proteins in LD biology and cell physiology via study of knock-out/knock-in genetic mutants. This project should fill the gaps in our knowledge of LD biology, and provide an improved understanding of LD dynamics for better energy storage and utilization, key for a sustainable green economy.
French version:
Étudier les mécanismes moléculaires de la formation et du renouvellement des gouttelettes de lipides dans les microalgues
Les plantes et les algues vivent dans un environnement fluctuant qui peut rapidement devenir adverse (e.g. carences nutritives, stress lumineux). La gouttelette lipidique (« lipid droplet », LD) est l'une des principales stratégies que les eucaryotes photosynthétiques ont développé pour assurer la mise en réserve sous une forme très compacte de molécules énergétiques servant à leur croissance et leur survie. Les LD sont constituées d'un noyau de lipides neutres entouré d'une monocouche de lipides membranaires contenant des protéines. Les LD jouent de nombreuses fonctions, notamment le stockage de l'énergie et du carbone, en tant que pool de chaines acyles pour la synthèse membranaire et la signalisation de cellule à cellule. La biogenèse et le renouvellement des LD sont donc étroitement coordonnés aux besoins métaboliques des cellules dans un environnement fluctuant. Bien que les principales étapes conceptuelles de la biogénèse et du renouvellement des LD aient été décrites, les détails moléculaires restent à définir. Ce projet de doctorat vise à disséquer les mécanismes moléculaires qui sous-tendent le renouvellement des LD dans la microalgue modèle Chlamydomonas reinhardtii. Nous fournirons d'abord une carte dynamique du protéome et du lipidome des LD dans des conditions environnementales dynamiques, puis nous utiliserons des études d'interaction protéine-protéine pour identifier les protéines clés et leurs partenaires d'interaction, et enfin nous étudierons la fonction de ces protéines dans la biologie des LD et la physiologie cellulaire par l'étude des mutants génétiques knock-out/knock-in. Ce projet devrait combler les lacunes dans nos connaissances de la biologie des LD, et fournir une meilleure compréhension de la dynamique des LD pour un meilleur stockage et une meilleure utilisation de l'énergie, clé pour une économie verte durable.
17 novembre 2020
Group leader Permanent position.
Biochemistry Group Leader (M/ W)
Company:
LPS-Biosciences is an innovative Biotech SME established in 2011 with strong expertise in bacterial endotoxins and structural analysis with 40 years of research at the French National Center for Scientific Research (CNRS). The company addresses and meets the endotoxins related needs of the biggest industrial groups in human and animal health, cosmetics, agriculture, and agri-food sectors, through service delivery, production and partnership R&D. We are also working with academic laboratories to advance research on pathogens and conduct innovative projects in the vaccines and diagnostic domains.
Missions:
As part of the development of our activity in biotechnology and growth of our team, we are looking for a scientific manager. Reporting to the head of laboratory, you will be managing a team of technicians working for our clients in the vaccine field. This will include planning and execution of research projects, quality control management, as well as budget of your team. To do this, you will accomplish the following tasks:
Scientific responsibility of your team (manipulations, customer relationship, reports)
Management of your team (security, organization, animation, training)
Quality management (customer focus, standardization, feedback)
Project management (project planning, tracking of time planned and carried out)
Track costs associated with your missions (orders, budget, fundraising)
Required profile
Young PhD in analytical biochemistry having a first experience of at least 2 years post- doctoral or company, and willing to manage a team.
Desired technical skills:
Desired behavioral skills:
Experience in analytical Biochemistry: Structures of lipids, polysaccharides, LPS.
Motivation for the team management, independence, good organization, seriousness and professionalism
Structural characterization by chromatography, Mass Spectrometry

(MALDI) and NMR

Customer orientation

Commitment toward results and profitability

Tests (colorimetric, spectroscopy)

Purification through different techniques of chromatography and electrophoresis.

Excellent communication, oral and written, in French and English
Manipulation of solvents, acids, alkali.
Contributing to team spirit and good interpersonal skills
Contract:
Permanent position to be filled as soon as possible
Place: Orsay in Essonne (91) France, near Paris, accessible by RER B and national road 118
Please send candidacy CV and motivation letter at recrutement@lpsbiosciences.com
10 novembre 2020
PhD position
Etudes des relations entre la structure et la fonction de récepteurs olfactifs d'insecte
Nous cherchons à recruter un(e) étudiant(e) très motivé(e) pour une thèse qui démarrera le 1er Janvier 2021 et sera effectuée dans l'équipe HPI de l'AFMB à Marseille et l'équipe CREA de l'iEES à Versaille. Cette thèse s'inscrit dans le cadre de la découverte de nouveaux agents de biocontrôle des insectes nuisibles.
Contexte et objectifs
Les récepteurs olfactifs représentent des cibles privilégiées pour perturber l'odorat des insectes ravageurs et contribuer à mettre au point des méthodes de biocontrôle. Cependant, l'absence de similarité avec les protéines membranaires connues est un verrou technologique pour leur étude moléculaire : leur modélisation tridimensionnelle ne peut être fidèle; l'identification du site de liaison des odorants est impossible. Ce projet propose de lever ce verrou en exploitant les développements technologiques les plus récents de la cryo-microscopie électronique à résolution atomique pour établir la structure des récepteurs aux phéromones sexuelles d'une noctuelle invasive polyphage, Spodoptera littoralis. Ces structures, affinées par la mutagénèse dirigée, serviront de matrices pour la conception d'agonistes et/ou d'antagonistes aux phéromones sexuelles, dont les effets sur les neurones et sur le comportement de l'insecte seront testés afin d'évaluer leur potentiel d'applications.
Méthode
Le projet présent propose d'utiliser la cryo microscopie électronique pour déterminer la structure atomique de récepteurs olfactifs d'insectes. Les récepteurs olfactifs sont présents dans la membrane cellulaire sous forme d'hétéro tétramères. Les complexes membranaires seront produits en cellules de mammifère, purifiés et stabilisés pour être étudiés par cryo-ME. Les données structurales seront affinées par mutagénèse dirigée.
Précisions sur l'encadrement et le déroulement de la thèse
La thèse sera co-dirigée par Alain Roussel (AFMB, Marseille) et Emmanuelle Jacquin-Joly (iEES, Versailles). Une présence effective sur les 2 sites sera nécessaire, même si une grande partie du travail sera à faire à Marseille.
Contacts : alain.roussel@univ-amu.fr et emmanuelle.joly@inrae.frVisit our new web site: https://hpi.afmb.univ-mrs.fr/. Dr Alain Roussel,responsable de l'equipe "Interactions Hote-Pathogene" AFMB, CNRS-UMR 7257 Campus de Luminy, Case 932, 163, avenue de Luminy .13288 MARSEILLE Cedex 09, France. Phone : +33 (0)491.82.55.93. Mobile : +33 (0)637.10.83.06. Fax : +33 (0)491. 26.67.20
7 novembre 2020
Assistant(e) Ingénieur(e) en Lipidomique
Projet de recherche translationnelle dans le cadre du projet RHU CHOPIN (CHolesterol Personalized INnovation)
Offre d'emploi : Assistant(e) Ingénieur(e) en Lipidomique
Le(a) candidat(e) sera recruté(e) par l'Université Claude Bernard Lyon 1. Il (elle) exercera son activité au sein de la Plateforme de Lipidomique Fonctionnelle à l'INSA de Lyon.
La Plateforme de Lipidomique Fonctionnelle, associée à l'Institut Multidisciplinaire de Biochimie des Lipides, propose une expertise et une assistance dans le domaine de l'analyse lipidique à l'ensemble de la communauté scientifique. La plateforme est équipée avec des HPLC, GC, GC-MS/MS et LC-MS/MS. Elle est labellisée IBiSA (Infrastructure en Biologie Santé et Agronomie) et est certifiée ISO 9001 depuis juillet 2016 pour son expertise et sa recherche en lipidomique.
Ce recrutement entre dans le cadre du projet RHU CHOPIN (CHolesterol Personalized INnovation), un projet de recherche translationnelle à grande échelle visant à instaurer une prise en charge personnalisée de l'hypercholestérolémie familiale laquelle représente un problème majeur de santé publique. Les objectifs sont d'identifier de nouveaux marqueurs de protection cardiovasculaire et de nouvelles cibles thérapeutiques, pour enrayer la progression des maladies cardiovasculaires lors des hypercholestérolémies.
Missions principales et activités
Le(la) candidat(e) recruté(e) sera en charge de :
– Préparer les échantillons sur des matrices biologiques
– Réaliser les analyses de métabolites oxygénés et des stérols et oxystérols par chromatographies (gazeuse et liquide) couplées à la spectrométrie de masse dans le cadre de protocoles établis.
– Extraire des résultats bruts et mettre en forme des résultats finaux
– Rédiger le cahier de laboratoire, les procédures expérimentales et notes techniques, les rapports d'analyse.
Activités associées
– Suivi métrologique des différents instruments de mesure
– Suivi du bon respect des protocoles mis en place dans la démarche Qualité
– Gestion de l'approvisionnement en consommables et produits chimiques de la Plateforme
Profil
Assistant(e) Ingénieur(e) en analyse chimique ou biochimie. Connaissances et Compétences :
– Compétences en chimie analytique
– Compétences en lipidomique
– Maîtrise des techniques de préparation d'échantillon en SPE et LLE
– Maîtrise de la LC-MS/MS
– Idéalement bonnes connaissances de la GC-MS(/MS)
– Notions de norme Qualité appliquée aux techniques d'analyse chimique
– Maitrise des logiciels de base de bureautique (Excel, Word, Powerpoint)
– Connaissances en statistiques
– Maîtrise en outils informatiques pour le pilotage des appareils et le traitement des données
– Bonne pratique de Laboratoire, connaissance des risques et des règles d'hygiène et de sécurité relatives au domaine d'activité
Type de contrat : CDD
Durée du contrat : 8 mois
Date début de contrat envisagée : janvier 2021
Contact plateforme.lipidomique@insa-lyon.fr
6 novembre 2020
Postdoctoral position for 3 years in biochemistry, cell biology and onco-immunology
Determination on how lipid metabolism reprogramming in tumors impacts on small extracellular vesicles (sEV) secretion, content and anti-tumor functions in tumor
Postdoctoral position for 3 years in biochemistry, cell biology and onco-immunology
Starting January-February 2021, in the team "Cholesterol metabolism and therapeutic innovations". Cancer Research Center, Toulouse, France.
Managers: Sandrine Silvente-Poirot and Michel Record
Project: Our team is specialized in the study of lipid metabolism in cancers. The project is a fundamental and translational cancer research program based on works of the team, and partners of the project, already very advanced. The objectives are to determine how lipid metabolism reprogramming in tumors impacts on small extracellular vesicles (sEV) secretion, content and anti-tumor functions in tumor cell models in vitro and in vivo and in patient samples.
Main mission: To characterize tumor-sEV generated after treatment of tumor cells with selected anti-tumor therapies or combinations and the molecular mechanisms involved.
Profile: We seek a highly motivated and self-driven Ph.D, dynamic, organized, rigorous, liking to learn and share. In-depth skills and autonomy in the field of sEV characterization and onco-immunology and competence in in vivo experimentations are requested.
How to apply:
Please email your detailed CV, including a complete list of your publications, a motivation cover letter outlining your research experiences and explaining your interest for the chosen position and a short statement on career planning, as well as 2 letters of references to sandrine.poirot@inserm.fr and michel.record@inserm.fr
Some publications of the team:
de Medina et al, PNAS, 2010
de Medina et al, Nat commun, 2013
Silvente-Poirot et al, Science, 2014
Record M, et al, Biochimie, 2014
Record M et al, Biochim Biophys Acta, 2014
Leignadier J et al, Biochem Pharmacol, 2017
Dalenc F. et al, J Steroid Biochem Mol Biol, 2017
Voisin M. et al, PNAS, 2017
Segala G. et al, Nat commun, 2017
Record M et al, J Lipid Res, 2018,
Silvente-Poirot S et al, Cancer Research, 2018.
Soulès R et al, J Steroid Biochem Mol Biol. 2019
de Medina P. et al, British Journal of Pharmacology, 2020
Serhan N et al, Cancers, 2020, in press
Mouchel PL. et al, Cancers, 2020, in press
21 avril 2020
PhD
Study of the mechanisms of lipids oxidation and antioxidant in complex food matrices : Example of infant formulas enriched in polyunsaturated fatty acids
PhD Offer
Contract Type : 3 years Doctoral contract CIRAD/INRAE
Starting date : Last trimester 2020
Pierre Villeneuve
ATTENTION NOUVELLE ADRESSE ET NOUVEAU NUMERO DE TEL
CIRAD/UMR IATE
TA B-62 / 16
Maison de la Technologie / Bât 16
73 rue Jean-François Breton
34398 MONTPELLIER Cedex 05
Tel/Phone (33) (0)4 67 61 49 84
http://umr-iate.cirad.fr/
Study of the mechanisms of lipids oxidation and antioxidant in complex food matrices : Example of infant formulas enriched in polyunsaturated fatty acids
PhD Summary : Food products displaying high content in polyunsaturated fatty acids are crucial for infant nutrition but particularly susceptible to lipid oxidation. Such oxidative alteration leads to the degradation of the food product nutritionnal profile and to the potential formation of toxic compounds. In food matrices, lipids are most of the time found under dispersed form (it is also the case in powders) and their oxidative behaviour is very complex. Indeed, in such heterogeneous systems, oxidation occurs primarily at oil-water interface where pro-oxidant agents come into contact with oxidable substrate (lipid) and initiate the reaction. In this context, our previous studies on model emulsions (oil-in-water) have demonstrated the importance of using antioxidant molecules able to locate predominantly at interface to optimize their activity. Similarly, we have demonstrated the key role of other tensioactive substances (emulsifier, proteins…) which can act as traps for pro- or antioxidants in the system and modulate the kinetics of oxidation. However up to now the transport and diffusion of radicals within heterogeneous food matrices is not described. And yet, we are convinced that a better understanding of these dynamics of transfer between the various components of the food systems (micellar phase-interface-lipid susbstrate) would lead to a better stabilization of food systems enriched in polyunsaturated fatty acids. The objective of this thesis will be to elucidate the mechanisms of propagation of lipid oxidation whithin heterogeneous food products, taking unsaturated fatty acids enriched infant formulas as an example. We will first work on model emulsion systems mimicking these products to unveil the mechanims of diffusion of oxidation using confocal imaging with fluorescent probes reporter of oxidation or RAMAN imaging. Then we will study the influence of natural antioxidants or proteins, used either isolated, or associated under the form of natural assemblies (vesicles, membrane fragments…) on the modulation of oxidation kinetics and will model these kinetics. In a second part of the thesis, we will validate these results in a real set of food product: infant formula in powder form. We aim at demonstrating that formulation and potentially process modification of this food product can improve its resistance to oxidation and thus improve its nutritionnal properties during storage.
Lipid Composition and State of Oxidation of Fortified Infant Flours in Low-Income Countries Are Not Optimal and Strongly Affected by the Time of Storage. Moustiés C, Bourlieu C, Baréa B, Servent A, Alter P, Lebrun M, Hemery Y, Laillou A, Avallone S. Eur. J. Lipid Sci. Technol 2019. https://doi.org/10.1002/ejlt.201900173
The need for a new step in the study of lipids oxidation in heterophasic systems. Villeneuve P, Durand E, Decker EA. J. Agric. Food Chem. 2018. https://doi.org/10.1021/acs.jafc.8b03603
Eleostearic Phospholipids as Probes to Evaluate Antioxidants Efficiency against Vesicles Liposomes Oxidation. Durand E, Delavault A, Bourlieu C, Lecomte J, Figueroa M, Decker EA, Michel-Salaun F, Kergourlay G, Villeneuve P. Chem. Phys. Lipids. 2017. https://doi.org/10.1016/j.chemphyslip.2017.10.006
A Comparison of Antioxidant Evaluation Assays for Investigating Antioxidative Activity of Gallic Acid and Its Alkyl Esters in Different Food Matrices. Phonsatta N, Deetae P, Luangpituksa P, Grajeda Iglesias C, Figueroa-Espinoza MC, Lecomte J, Villeneuve P, Decker EA, Visessanguan W, Panya A. J. Agric. Food Chem. 2017. https://doi.org/10.1021/acs.jafc.7b02503
Hurdles in Predicting Antioxidant Efficacy in Oil-in-Water Emulsions. Decker EA, Mc Clements DJ, Bourlieu-Lacanal C, Durand E, Figueroa-Espinoza MC, Lecomte J, Villeneuve P. Trends Food Sci. Technol. 2017. https://doi.org/10.1016/j.tifs.2017.07.001
Supervisors :
Claire BOURLIEU (UMR IATE) et Pierre VILLENEUVE (UMR QUALISUD)
Doctoral School : GAIA (N°584), Montpellier, France
Hosting Teams : UMR QUALISUD/UMR IATE
The PhD candidate will work in two Joint Research Units (UMR Qualisud and UMR IATE), both located in Montpellier, France.
General Requirements
Applicants should have a background in Chemistry, Food Chemistry, Nutrition. Good Knowledge of english. Highly motivated by research, autonomous, dynamic.
Candidacy must be sent to C. Bourlieu (claire.bourlieu-lacanal@inra.fr) and P. Villeneuve (villeneuve@cirad.fr) and should contain :
– Curriculum
– Personal statement
– Letters of recommendation (2)
– Master grades
Contract Type : 3 years Doctoral contract CIRAD/INRAE
Starting date : Last trimester 2020
Pierre Villeneuve
ATTENTION NOUVELLE ADRESSE ET NOUVEAU NUMERO DE TEL
CIRAD/UMR IATE
TA B-62 / 16
Maison de la Technologie / Bât 16
73 rue Jean-François Breton
34398 MONTPELLIER Cedex 05
Tel/Phone (33) (0)4 67 61 49 84
http://umr-iate.cirad.fr/
20 avril 2020
The Bioscience and biotechnology Institute of Aix-Marseille (BIAM) is looking to recruit experienced and emerging scientific talents!
The Bioscience and biotechnology Institute of Aix-Marseille (BIAM) is looking to recruit experienced and emerging scientific talents!
Situated in the south of France in the Provence-Alpes-Côte d'Azur, the BIAM is a joint research center between the Commissariat à l'énergie atomique et aux énergies alternatives (CEA), the Centre National de la Recherche Scientifique (CNRS) and Aix-Marseille Université.
The BIAM proposes an ambitious strategic and scientific project "Green solutions for tomorrow" that concentrates excellent fundamental, technological research and innovation by bringing together leading research teams and economic partners.
The project is organised around 2 fundamental research themes "energy bioconversion" and "the response and adaptation of living organisms to environmental constraints"
As of the summer 2020, experienced scientists and talented early career researchers are invited to join BIAM to strengthen the Institute's scientific project, either through mobility or appointment. Two permanent high-level researcher positions (PhD + a minimum of 2 years experience) are to be filled on the Cadarache site as part of the "Green solutions for tomorrow" project to reinforce existing teams or to promote transversality between exisiting themes.
SEE ALSO
Video about microalgae activities in the "Cité des Energies"
Adresse
CEA Cadarache
DRF-BIAM Bât 177
13108 Saint-Paul-Lez-Durance
28 janvier 2022
CDD 18 mois (possible 24 mois selon conditions) au laboratoire Physiologie Cellulaire et Végétale, CEA Grenoble
Nous recherchons : - un/e Technicien/ne en ingénierie génomique et lipidomique des diatomées
La mission s'intègre dans un projet de recherche visant à approfondir nos connaissance du métabolisme lipidique chez une diatomée marine .
Contact : envoyer CV et lettre de motivation à Alberto Amato (alberto.amato@cea.fr) et Eric Maréchal (eric.marechal@cea.fr) AVANT LE 15 FEVRIER 2020
Laboratoire de Physiologie Cellulaire & Végétale
UMR 5168 CNRS-CEA-INRA-Univ. Grenoble Alpes / INRA UMR 1417
IRIG, CEA-Grenoble
17 rue des Martyrs, 38000 Grenoble, France
+33 (0)4 38 78 49 85
Description :
Technicien/ne en ingénierie génomique et lipidomique des diatomées.
Le Laboratoire de Physiologie Cellulaire et Végétale (LPCV ; Institut de Recherche Interdisciplinaire de Grenoble – IRIG –CEA) recherche un/e candidat/e pour un poste de technicien dans l'équipe Lipides pour travailler sur un groupe spécifique d'algues appelées diatomées. Le/la technicien/ne contribuera en particulier à la caractérisation de gènes impliqués dans la synthèse des lipides de Phaeodactylum tricornutum. Les diatomées sont des organismes photosynthétiques unicellulaires et P. tricornutum est considérée comme un organisme modèle pour l'étude de leur biologie et physiologie, ainsi que pour le développement d'approches biotechnologiques. De nombreux outils moléculaires sont disponibles pour P. tricornutum, notamment pour la transformation génétique et l'ingénierie génomique tel que les technologies TALEN et CRISPR/Cas9. Des « knock out » et « knock down » de gènes seront réalisés afin de produire des mutants exprimant partiellement ou n'exprimant plus un ou plusieurs gènes d'intérêt. Une analyse du phénotype lipidique permettra de caractériser les fonctions des enzymes codées par ces gènes.
Le/la technicien/ne partricipera à la construction de vecteurs d'expression pour l'ingénierie génomique et la transformation de P. tricornutum par des méthodes de biolistique. Le/la technicien/ne sera également en charge du criblage génétique et phénotypique de ces souches mutantes via une méthode de criblage récemment développée au sein du laboratoire. Le contenu en lipides des souches les plus prometteuses sera analysé par GC-MS et LC-MS/MS afin de caractériser les fonctions des gènes d'intérêt.
Une partie du temps sera aussi dédiée à un projet en collaboration avec une entreprise privée, qui s'intéresse à l'amélioration de la production de lipides dans différents protistes marins.
Diplôme requis :
Licence professionnelle biotechnologies ou Biologie option microbiologie ou biologie végétale ou culture cellulaire ou biochimie
Compétences requises :
Manipulation de données et mise en forme des résultats
Clonage
Culture d'algue ou d'autres micriorganismes en conditions stériles
Aisance en communication écrite et orale
Travail de manière autonome et en groupe
Implication dans plusieurs projets en parallèle
Adaptation à de nouveaux sujets, esprit critique et créatif afin de s'adapter aux difficultés
Durée 18 mois à 24 mois.
Lieu : LPCV Grenoble (http://www.lpcv.fr/)
Envoyer CV + lettre de motivation à Alberto Amato (alberto.amato@cea.fr) et Eric Maréchal (eric.marechal@cea.fr) avant le 15 Février 2020
Technician in genomic engineering and lipidomics of a marine diatom
The Laboratory of Cell and Plant Physiology (Laboratoire de Physiologie Cellulaire et Végétale; Interdisciplinary Research Institute in Grenoble – IRIG – CEA) opens a position in the Lipid team to work on a specific group of algae called the diatoms. The selected technician will contribute the characterisation of genes involved in the synthesis of lipids in the marine diatom Phaeodactylum tricornutum. Diatoms are unicellular photosynthetic organisms and P. tricornutum is considered the model organism for diatom biology and physiology, as well as for development of biotechnological approaches. A large number of molecular tools are available for P. tricornutum, like genetic transformation and genomic engineering based on nucleases such as TALEN and CRISPR/Cas9. Gene knock out or knock down will be performed to produce mutants partially or totally deprived of one or more genes of interest. A lipidomic phenotypic characterisation will lead to the characterisation of the functions of the enzymes encoded by the aforementioned genes.
The candidate will be involved in the construction of expression vectors for genomic engineering and in the genetic transformation of such vectors into P. tricornutum via biolistics. The candidate will take care of the genetic as well as phenotypic screening of the mutant strains by means of a screening procedure recently established in the lab. Promising strains will be analysed for their lipid content by GC-MS and LC-MS/MS in order to characterise the functions of the genes.
A percentage of the time of the candidate will be devoted to a collaborative project with a private company, which aims at improving lipid production in different marine protist.
Required qualifications:
Diploma equivalent to Licence professionnelle, with special options on biotechnologies, microbiology, plant biology, cell culture, molecular biology and/or biochemistry
Required skills:
Data manipulation and reporting.
Molecular cloning.
Axenic algal or other microorganism cultivation.
Effective written and oral communication skills.
Ability to work independently and in a group.
Abilitiy to contribute to multiple projects.
Ability to learn new topics and think critically and creatively for problem solving.
18 to 24 months.
Location : LPCV Grenoble (http://www.lpcv.fr/)
Send CV + motivation letter to Alberto Amato (alberto.amato@cea.fr) and Eric Maréchal (eric.marechal@cea.fr) before February 15, 2020
Laboratoire de Physiologie Cellulaire & Végétale
UMR 5168 CNRS-CEA-INRA-Univ. Grenoble Alpes / INRA UMR 1417
IRIG, CEA-Grenoble
17 rue des Martyrs, 38000 Grenoble, France
+33 (0)4 38 78 49 85
25 février 2019
Post_doctoral Associate Position (2-5 years) in Prague, Institute of Physiology
Research on Lipid Metabolism
Postdoctoral associate position is available in the laboratory of Dr. Ondrej Kuda at the Institute of Physiology of the Czech Academy of Sciences (IPHYS) in Prague. IPHYS is a leading national institution in research on normal and pathological physiology. The mission of the Institute is to enhance fundamental knowledge of the processes involved in metabolic regulation and its impact on cardiovascular, neuronal and brain function.
We are looking for curious, imaginative, independent and highly-motivated applicants holding a PhD with experience in biochemistry/physiology/molecular biology. Skills in any of the following: bioinformatics/programing, whole animal physiology, LC-MS/MS are a plus. The institute is bilingual (Czech/English) and good communication skills and a collaborative attitude are important.
The focus of Dr. Kuda's lab is the metabolism and regulatory actions of bioactive lipids, specifically as related to pathways of glucose and lipid metabolism. We are interested in products of de novo lipogenesis such as branched fatty acid esters of hydroxy fatty acids (FAHFA), in anti-inflammatory & pro-resolving eicosanoids and docosanoids, and in endocannabinoid-like metabolites derived from omega-3 polyunsaturated fatty acids. We combine cutting edge biochemical, bioinformatics and LC-MS-based omic approaches to elucidate pathway regulation and relevance to the mechanisms underlying metabolic diseases such as type 2 diabetes and obesity. For additional information see lab website: http://www.fgu.cas.cz/en/departments/metabolism-of-bioactive-lipids
The position is initially funded for 2 years with possibility of extension for up to 5 years. Starting date can be anytime in the first half of 2019. Dr. Kuda's lab is well funded by national research grants and institutional support from the Czech Academy of Sciences. The position salary is competitive and exceeds average compensation for similar positions in the local metropolitan area.
Applications should be sent directly to Dr. Kuda at ondrej.kuda@fgu.cas.cz before April 12th, 2019. Applications will not be reviewed until all below items are received. Applicants will be contacted to schedule an interview till April 12th.
1. Curriculum vitae
2. Two publications (attach PDFs). First author or with major contribution.
3. Cover letter: State why you qualify for the position and include description of relevant skills and experience
4. Copy of official diploma and any other academic records you wish to provide in support of your application
5. List of two to five references (with address and contact email) and indicate how these individuals are professionally related to you.
https://www.nature.com/naturecareers/job?id=676609
25 février 2019
Post-doctoral position in Lipidomics
A postdoctoral researcher fellowship position (18 months) in lipidomics/sterolomics is available at ISA (ANABIO-MS team)
Post-doctoral position in Lipidomics
A postdoctoral researcher fellowship position (18 months) in lipidomics/sterolomics is available at ISA (ANABIO-MS team) in close collaboration with Ecotoxicolgy group (Irstea). The fellowship funded by the ANR will be starting in September 2019.
Project
Aquatic ecosystems are exposed to environmental stressors such as chemical micropollutants from natural environment or anthropogenic activities. These chemical contaminations may result in alterations of the internal biochemical homeostasis of the aquatic organisms. The major limitation in the mechanistic knowledge of environmental chemical toxicity effects on aquatic organisms is the absence of molecular information notably at the genome wide scale in environmentally relevant species. The "omics" technologies – such as Transcriptomics, Proteomics, Lipidomics, Metabolomics – offer a great promises to help to elucidate molecular responses to exposures in aquatic organisms during specific and vulnerable life cycle stages. Lipid metabolism is the major fundamental metabolic pathway producing energy in animals. In fresh water organisms, lipids play a pivotal role in vulnerable stages like molting, reproduction, development. Recently, it has been shown that pharmaceutical drugs like hypolipidemic drugs have been detected in sewages, affecting the reproduction and population growth of crustacean amphipods (genus Gammarus). To understand and predict the effects of toxic exposures, it is crucial to describe the lipidome and to identify the affected metabolic networks. The project aim to gain a mechanistic understanding of toxic effects of hypolidiaemia drugs (statins and fibrates) on the sentinel organism, G. fossarum.
An innovative multi-omics approach (proteomics and lipidomics) will be developed to monitor metabolic perturbation on different development stages and reproductive cycles of G. fossarum after exposure with hypolidiaemia drugs.
For further details of the project, please follow the link : http://www.agence-nationale-recherche.fr/Project-ANR-18-CE34-0008
Profile
We seek a highly motivated and enthusiastic candidate with a PhD in the area of lipidomics with a focus on sterols analysis, or analytical chemistry or ecotoxicology with an interest in analytical chemistry.
The successful applicant will work at the Institute of Analytical Sciences (ANABIO-MS team) in collaboration with Ecotoxicology group at Irstea.
The requested skills include:
 Strong chemical background with a PhD in Analytical Chemistry or Biochemistry with hands-on mass spectrometry
 A significant level of technical knowledge and experience in mass spectrometry (Triple quadrupole, Q-TOF) including its applications in lipidomics or metabolomics
 Experience in biological sample preparation techniques
 Experience in chemometrics (intermediate to strong skills) and data mining will be an asset (R, Matlab).
 Evidence of peer-reviewed publications
 Good collaboration and communication skills (written and oral English)
Salary and appointments terms
The salary and appointment terms are consistent with the current rules for post-doctoral fellows. The period of employment is 18-months starting in September 2019.
Application
The successful candidate is expected to start in September 2019. The closing date for applications is 15th May 2019. Applications must be submitted as a single PDF containing:
 Current curriculum vitae including the list of publications
 A cover letter
 PhD diploma
 References (with letters of support)
Further information / contact
Sophie Ayciriex, PhD
Institute of Analytical Sciences (ISA),
CNRS UMR 5280 – ENS Lyon – University Claude Bernard Lyon 1
5 Rue de la Doua- 69100 Villeurbanne (France)
sophie.ayciriex@univ-lyon1.fr
25 février 2019
PhD student position
PhD student position on Microalgal Carbon and Lipid Metabolism
Available PhD student position on Microalgal Carbon and Lipid Metabolism
February 19, 2019
Topic: Manipulating redox balance to increase carbon reserve formation in microalgae
Host lab: The lab is located at Institute of Bioscience and Biotechnology of Aix Marseille (http://biam.cea.fr/drf/biam/Pages/accueil.aspx), which is part of The French Atomic and Alternative Energy Commission (CEA), and part of the French National Center for Scientific Research (CNRS), and University of Aix Marseille in the region Provence in the South of France.
Starting date: fall 2019 (3 years)
Funding: This project is funded by the CEA. The PhD student will receive a very competitive stipends plus all the social benefit.
Director of Thesis: Dr. Yonghua Li-Beisson
E-mail: yonghua.li@cea.fr
Scientific background and project: Microalgae requires only sun light and water to fix atmosphere CO2 into organic carbon. They therefore represent a promising platform not only for production of a range of biomaterials ranging from food, fuel to green chemistry application, but also are key to achieving a carbon neutral economy. Microalgae naturally have the capacity to produce starch and lipids; starch are precursors to bioethanol and lipids are precursors to biodiesel. But high amount of starch or lipid is made mostly under conditions when cell division and growth are compromised. Our team has recently discovered for the first time that redox communication occur between peroxisome and chloroplast, two of the three most energetic subcellular organelles, and we further shown that this redox communication plays an important role in regulation of photosynthesis, lipid and starch metabolism (Kong et al 2018 Plant Cell). In this PhD thesis, we aim to further explore the impact of altering redox state on carbon reserve formation in microalgae.
Profile desired: The candidate is expected to have already some experience working with molecular biology of Chlamydomonas. Experience in Confocal microscopy a plus. He/she will be trained in algal physiology, lipidomics and metabolism. He/she will work in close collaboration with other researchers, technicians and students of the group.
Reference: Kong F, Burlacot A, Liang Y, Legeret B, Alseekh S, Brotman Y, Fernie AR, Krieger-Liszkay A, Beisson F, Peltier G, Li-Beisson Y (2018) Interorganelle Communication: Peroxisomal MALATE DEHYDROGENASE 2 Connects Lipid Catabolism to Photosynthesis through Redox Coupling in Chlamydomonas. Plant Cell
For more ref on related work : please visit the https://orcid.org/0000-0003-1064-1816